Business Strategies
VentiMar offers a range of market and customer research services to help you evaluate an emerging business opportunity, and then to develop the business strategies to win.
We can help you make decisions about your business quickly and effectively by phasing the research.  The core of our work is to obtain insights about  the external customer, competitive and market environments. VentiMar is an objective partner — we do not have a history in your business.   We do have a strong interest in your success.
We offer the following services and custom projects based on your objectives:
Traditional product management
Rapid Market Prototyping
Business case
Business plan
Traditional market research and product management
This process is ideal for existing markets where there is some product and sales experience.  The core value-add is insightful research of the market and customer needs, leading to a compelling value proposition.
There is plenty of room for innovation as you refine your understanding of customer needs and refine development and delivery of the solution.  The development lifecycle should be tuned for effective coordination and delivery by the entire team.
Rapid Market Prototype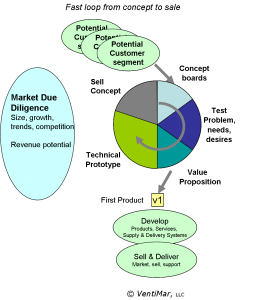 This process  is ideal for emerging businesses since opportunities and risks need to be understood quickly. An emerging business will be fighting for a reason to exist against all sorts of incumbents.
It is essential to understand customers, and the value proposition required to win.  This process is analogous to Rapid Prototyping that is commonly done in engineering to test the physical concepts and preliminary design. The Rapid Market Prototype closes the loop from target customers to sales much faster than traditional methods, and validates the project quickly
Business Case
Business cases are prepared for the internal management team to make decisions on funding a project.  Then traditional product management is used to bring the project through the lifecycle.
Business Plan
A full business plan is a comprehensive plan that equips the organization to attract external investor funding.  It is usually accompanied by an summarized investor presentation.  Investors look for for a complete offer:  business strategies that have potential to address a customer segment in a compelling way, markets that have growth potential, a solid, comprehensible value proposition, and a management team that can execute and turn the business strategies into products and services that will make money.
In many cases, each of these processes cascades into the next.  Contact us for a discussion of your goals and to receive a quote.
We help you develop business strategies and action plans that will turn into revenue, profit and customer satisfaction.